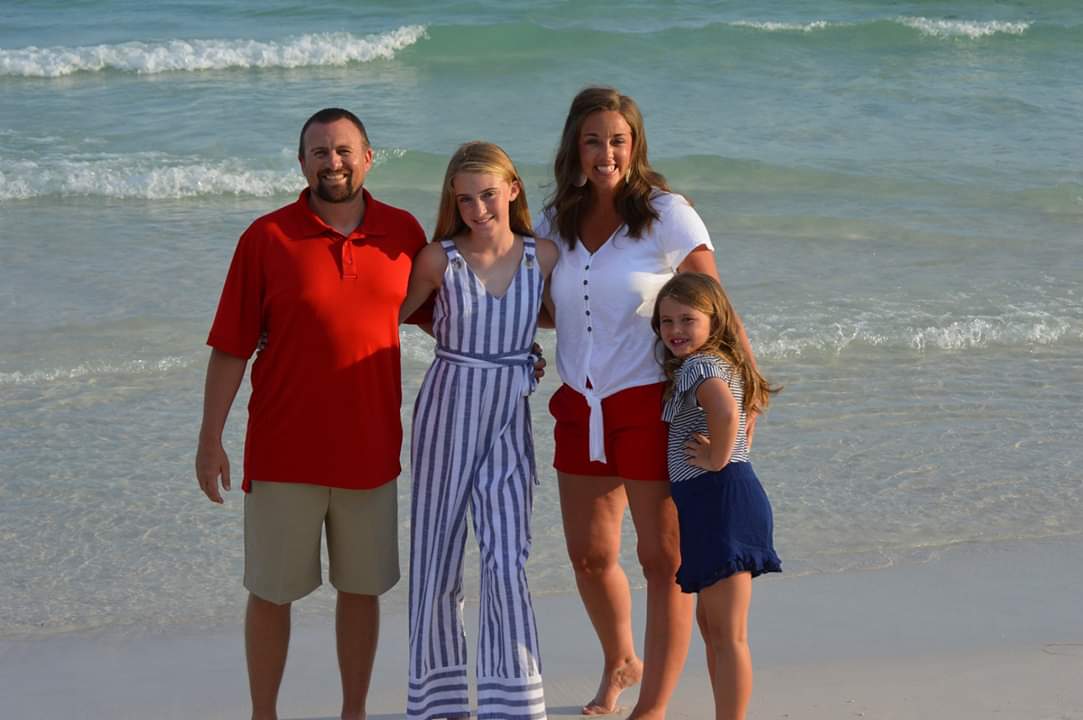 Craig Bentley
Head Coach
Coach Craig Bentley is proud to be back in Mena as a Mena Bearcat Head Football Coach and Assistant Athletic Director. This is Craig's twelfth year as a football coach and his fourth year as a Head Coach. Coach Bentley was raised in Mena, Arkansas and graduated from Henderson State University with a BSE. He and his wife Sarah are blessed with two beautiful daughters: Rylie, who is 12 Harper, who is seven. 
Coach Bentley add, "As a football staff, we will have unmatched enthusiasm and effort with an emphasis on putting kids first. Through our program, our goal is for the student athletes to learn discipline and how to be servants to others……while also putting them in position to be successful on the football field. There is just something special about being a Bearcat and we are lucky to get to represent the school and the community each and every day! Go Bearcats!"
Landon Dover
Coach Landon Dover is proud to be back in Mena as a Mena Bearcat Varsity Offensive Coordinator and Head Boys Track Coach. This is Coach Dover's eighth year as a football coach. He graduated from Harding University. Coach Dover and his wife Rachel are blessed with one son Chanler who is 10 and another expecting Mason in August. 
Coach Dover adds, "We are blessed to be back in Mena and excited to have the opportunity to teach and coach the Bearcats and Lady Bearcats!"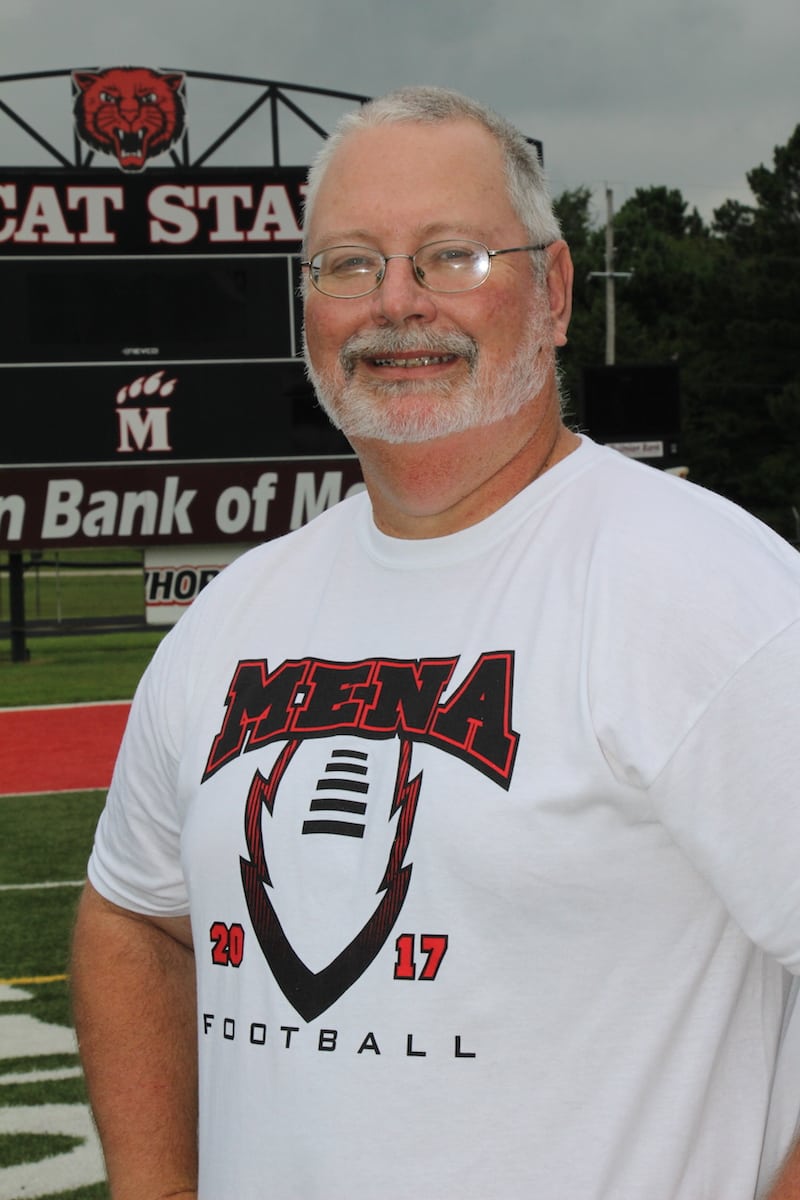 Coach Johnson
After a short hiatus from football coaching, Coach Johnson returned to Bearcat football in 2017 as an assistant for all grades. This is Coach Johnson's 13h year in coaching and he has been in the Mena School district for 15 years. Tommy is also the assistant varsity baseball coach.
When not at school or with the Bearcats, coach Johnson enjoys spending time with his wife Karen and son Robert. Coach Johnson is an avid Razorback fan and a world class tailgater. His tailgate at Razorback football has a following from fans all over the state and beyond.
He said "I would like to see our teams achieve success on the field and in the classroom and gain an understanding of the value of teamwork.  My favorite thing about coaching is watching the team accomplish goals through hard work and determination."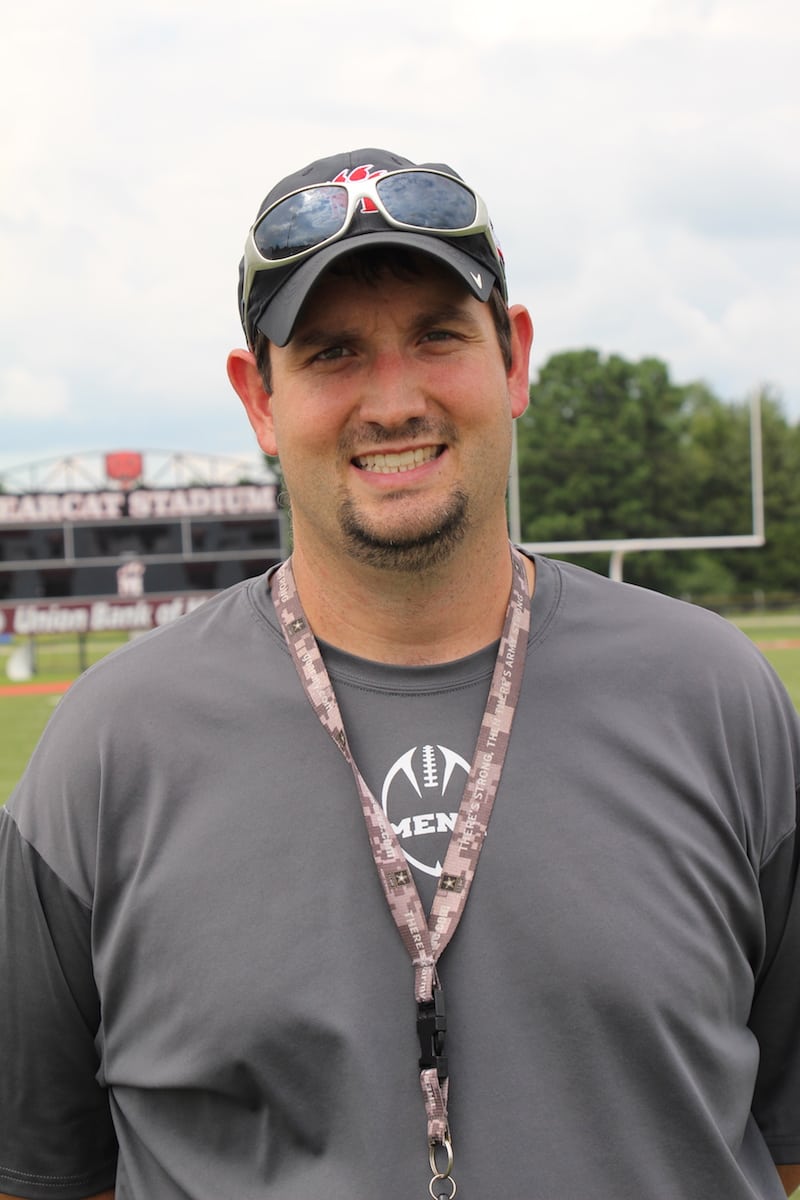 Ryan Luttmer
Head Jr. High Football Coach
Coach Ryan Luttmer is in his 9th year of coaching and graduated from University of Central Oklahoma. He is the Head Jr High Football Coach, Assistant Sr High Football and Assistant Bearcat Basketball Coach. He is married to his lovely wife, Tiffany Luttmer, and they celebrated their fourth anniversary this summer. Coach Luttmer also teaches math in the AE program and Tiffany is a MMS 8th grade science teacher.
Kyle Smithers
Coach Kyle Smithers is in his first year of coaching and graduated from University of Arkansas – Fort Smith. He received his Bachelors Degree in Social Studies Education. Coach Smithers be joining the Bearcats as Assistant Football Coach and Head Soccer Coach. He will be teaching World History at MHS.